When Max was in utero our nicname for him was POTUS, Z & I both love the politics and POTUS seemed like a grand generic name until we knew just who it was that was wiggling around in there. It has only been recently that we've stopped calling him that and I am not sure that I've ever done it here...wondering
why
too, since POTUS is a totally great baby nick name for a blog!In fact my very first blog was named Sam, Moo and POTUS too. It was hastily abandoned due to the crazy puking of being pg and then ya know; the Ohio Debacle.
Hmmmmm. Must think about that POTUS nick name.
Anyway, POTUS Max had his very first press conference at age 4 months when we were interviewed by a German TV station about Obama and how popular he was.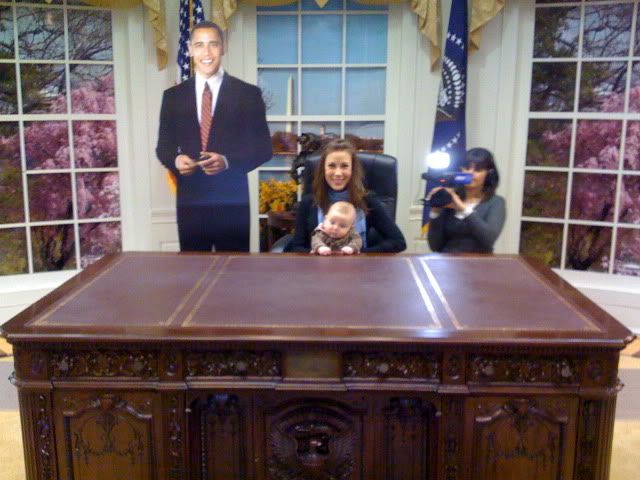 Max did great! Me? I'm utter crap without a script. For reals. No public improv for me! I once accepted the LA Weekly award for best show and thanked the people who put toilet paper in the theatre bathrooms. (ok...first off, those guys never get enough thanks. I mean, being stuck in the bathroom without TP is AWFUL! Boy, for a gal who is not big on talking about bodily functions this marks two posts in a row which feature TP in a prominent role.) In our family, I am not the go to gal for interviews or improv. Zach on the other hand should really be taking over the Tonight Show. He is quick as lightning and funny as all get out. I stammer and shake and just embarrass the living daylights out of myself. (I am great on stage if something goes wrong however...but being ME and just talking? Hell. No.)
Over the break we decided to take a jaunt to the Newseum and check out Tim Russert's office among the many other cool things they have there. Did you know that no matter who Tim Russert was interviewing, if his son Luke called he always took the call. He would put Tony friggin Blair on hold for his son and expected the people he worked with to so the same. He and his employees didn't miss little league games or ballet recitals, isn't that amazing? He was a great journalist but an even better father. You see the evidence of it all over his office. Drawings and pictures of his son. Talk about having his priorities right!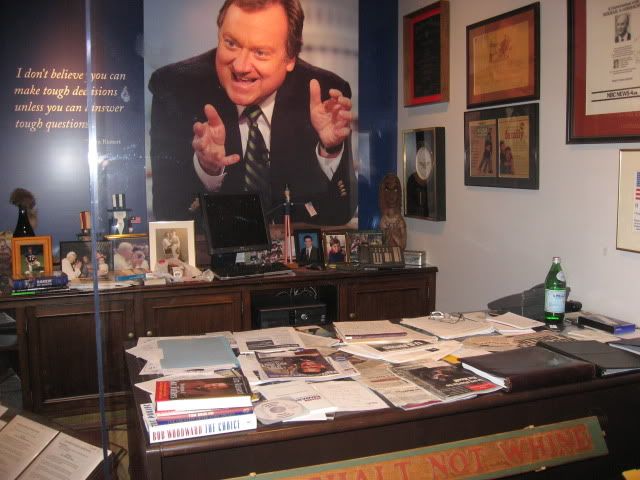 DC has crazy cool museums of course, but the Newseum gives you great bang for your buck. It's crazy interesting and I was knocked back with emotion several times.
The radio tower from the top of the World Trade Center will leave you breathless.
Anyway, there are a lot of fun interactive things to do at the Newseum and you just know this family wasn't walking away from any chance to be on tv. It's in our blood. We're all born honest-to-goodness attention whores.
So, when we reached the area to be a real live newscaster we happily got our little tickets and stepped in front of the camera! One note, if you are trained in tele-prompter as we we are these things go slower than molasass in January, but still it was a BLAST.
Both of us reported from the White House, natch. One stuck to the script (me), and one had all the workers laughing hysterically at their improv (guess who, Zach of course!).
After we watched ourselves we realized had left someone very important out!
He stole the show of course. Clearly he takes after his father.