Sometimes when you've been trapped in the house for several days you take to wandering from room to room. Especially if you are 16 months old. Or if you are that 16 month olds mother.
Max and I just wandering through the house, room to room.
So, say you're wandering about and you head into the baby's favorite room, his Auntie Kelly's room. (We've no idea why he's so obsessed with her old room...but there it is. You can't find Max? Check there first) Of course he's all confident pulling things down and attempting to see just
what is
on top of that table, because he knows his mommy is ever so patiently following him around (again).
Being 16 months old and supremely sweet, he decided Mommy needed a present, and before Mommy could even put down her (much needed) coffee, he swooped into Auntie Kelly's closet and picked something pink to bring to Mommy. That boy. So young, so smart. Pink is indeed my favorite color.
Oh! (I gasp!) I've never seen this, I LOVE IT!
I tossed that dress down and take a picture with my iPhone, which is SO obviously my attachment object. (hey! If Max can have his sock monkey I can have an iphone...whaddya mean I should be past that developmental phase?) and furiously texted Auntie K.
Best sister in law ever, non? So now I know why a certain 16 month old is obsessed with Auntie Kelly's room. First he found the big yellow ball there (the exercise ball, another Max obsession) and now this! That room is like a treasure chest of awesomness.

Now I'm all floaty and happy and looking forward to the sun!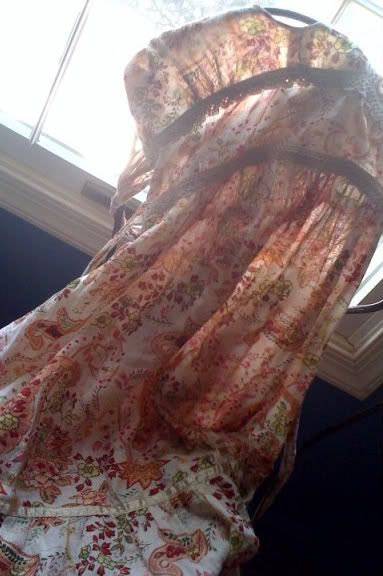 This dress gives me Spring Fever.



Also, I'm going to need some sort of slip.