It's no skin off my nose that Port Charles has totally lagged on setting up my Embassy and my diplomatic immunity (no stripper killing for me. *sigh*) ( also, I do not in any way sanction killing strippers, or anyone really. Just for the record.). Because this week I am abandoning the fictional city for the real life heaven of Hawaii. Waikiki to be specific.
We've been here less than 24 hours and it's like a dream world. The flight with the toddler tyrant was long, but good and from the moment we landed there's been some sort of Fairy Godmother following me about.
As soon as I turned on my phone *brrrrrrring* (that's the fairy godmother's wand waving sound FYI) tweets and emails galore alerting me that this lil old blog is in the
Fashion and Style section of the New York Times.
Let's just have an SATC Charlotte York moment for that. Or maybe it's a Carrie Bradshaw moment, since it's about writing and since the humidity has my hair more SJP than usual. Whatever, I can float on that for ages kids.
We arrive at the Sheraton Waikiki *brrrrring* room upgraded. Ocean view. Holy Buckets! (LENT!) It's straight out of a movie. I've never seen such beautiful water...and turtles. Just big old sea turtles hanging out. I'm in love.
I am now fully ensconced in pretending this is my every day life. Forget Madame Ambassador (for now), I've moved on to
Island Princess Kikipania
(my name in Hawaiian. Its so much cooler in Hawaiin, non?)
I am also thinking of rocking the flower in the hair look on the regular. Specifically at innapropriate times. Like the next big blizzard in D.C. you'll just see me cruising about with a hibiscus tucked behind my ear. Flowers in the hair is the Hawaiian tiara. I am an equal opportunity tiara employer.
My feet have only touched the ground twice, an astonishingly gross blowout a'la toddler booty, and while sampling some of the local food at Cheesecak Factory (HA!) they served this vegetarian chicken in in my salad. That'll learn me!
Rolled out of bed to this *brrrrrring*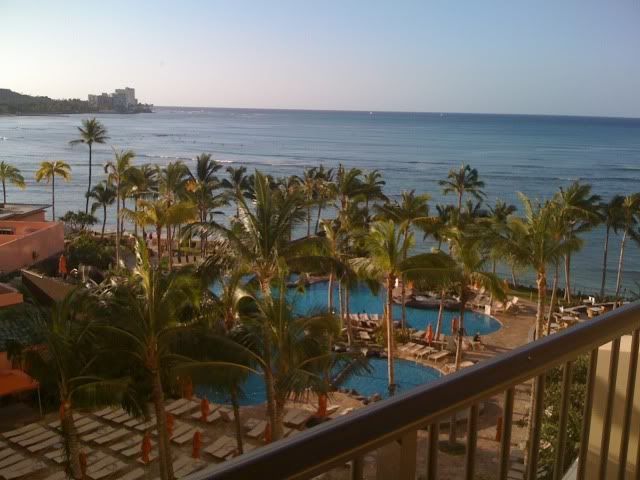 A room with a view, dude.
Then like magic, *brrrrring* coffee and breakfast arrived. Is it just me or are the bananas here crazy delicious? They're like dessert bananas. And don't get me started on the pineapple...swoon.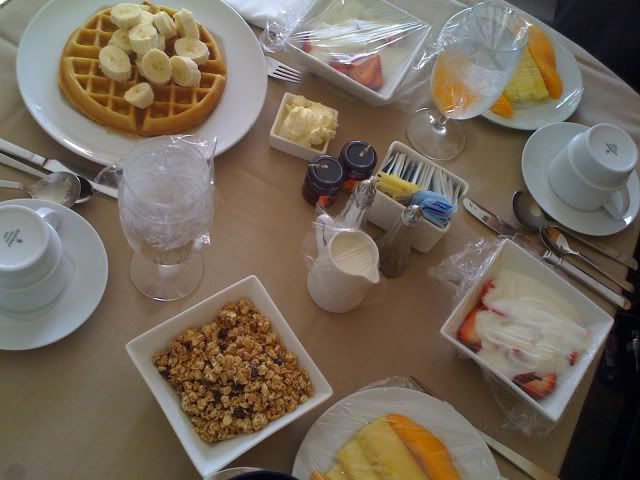 This would be just one of the pools. *brrrring*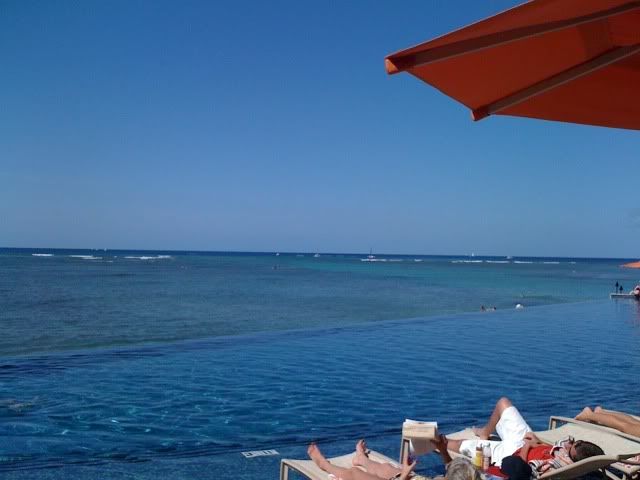 Pool ends, ocean begins. Beautiful.
It's not just a magical land for me thus far. There's a real live Ukele store here in the Sheraton, and those cats took the time to show Max a few more moves and encourage his 'atar' love even more. Yes. We bought one. And a spare.
*brrrring*
Thank you to the Sheraton Waikiki for allowing the little dude to hold am impromptu concert in the lobby.
We had a quick run through for Danny and Tim's wedding tomorrow:
*brrrring*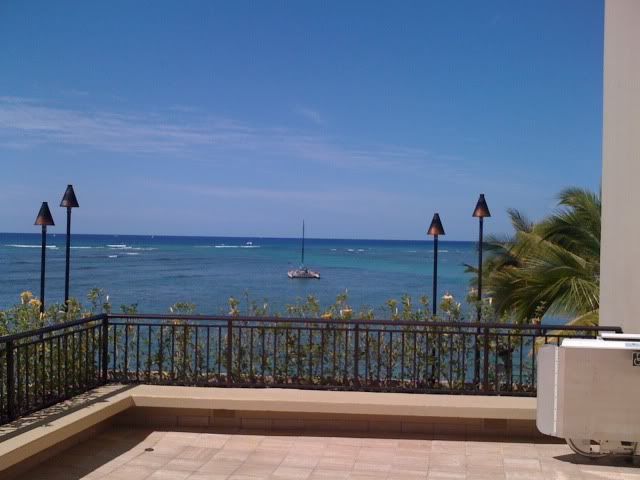 And now here I sit, in the lobby enjoying my soy latte and free internet and computer access while the breeze wafts through.
*brrrrring*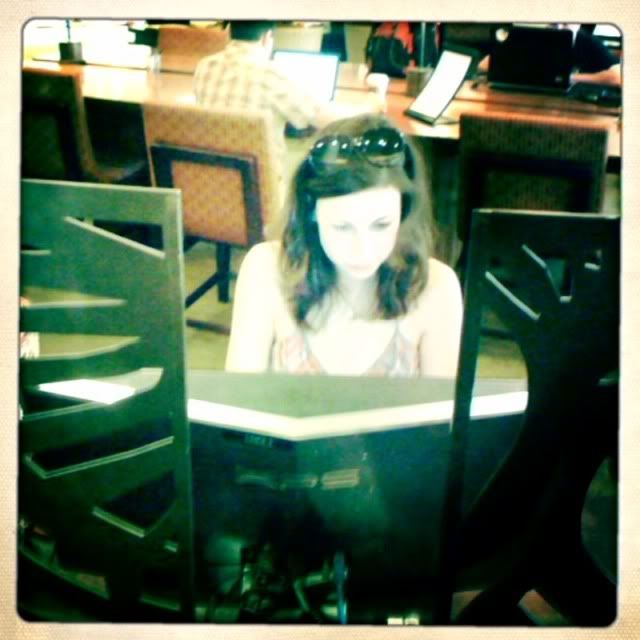 It's like they knew I was coming and planned accordingly.
And now if you'll excuse me, we are off to feed some Koi.