Before I had one of these running around: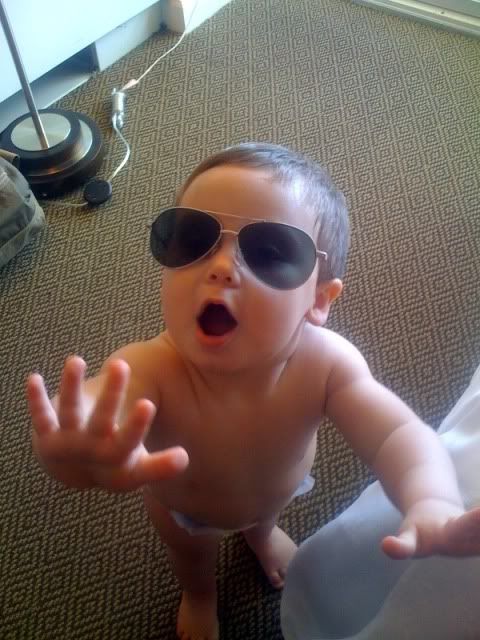 I never thought that Daylight Savings time was a big deal. Spring forward? Cool, one extra hour to sleep in. Fall back? Well, I'd just have to drag my sorry booty to class 'early' for a few days until I got used to it or, more likely, oversleep. Hmmm. Why didn't I finish that Anthropology degree again?
But now that the wee one is here I see just how the panic rises as the date moves closer and threatens the holiest of holies: the sleep schedule.
Daylight Savings is one hour to be fretted over, dreaded, and dare I say it - feared?
Fear no longer, mothers of the world (for I know it is by and large YOU that handle the havoc that is wrecked upon our (non) sleeping babes), I have found the answer.
What's one measly hour to a toddler? pffft. Nothing. Let's talk about six. Six hour difference...and then oh! let's toss in a spring forward just for fun, k?
Perhaps you think I jest, but I do not!
Day one: fly to Los Angeles from Washington, D.C., giving baby a smack of 3 hours difference. Whoohooo!!! We landed at 10 p.m.- 1 a.m. for the kiddo. Kid will be so jacked up and wiggly from being contained in a flying tube of steel that he will race around the apartment until midnight LA time...THREE A.M. D.C. time. *sigh*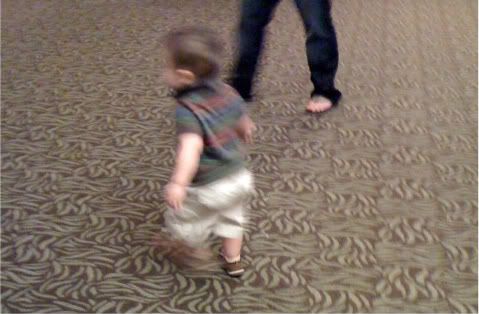 Day two: Toddler will sleep until around 10 a.m. LA time, suhweet! Naptime...if he will do it, at 2 p.m., then bed at 10...progress y'all!
Day three: Toddler up at 8 a.m. LA time~ no nap, as we are off to Hawaii!!! Kid up till midnight again...which is now 3 a.m. LA time, and 6 a.m. DC time. (*note, mothers are allowed a small sob fest due to extreme exhaustion)
Day four: HAWAII! Kid sleeps til 9 a.m. Hawaii time...thank.God. Refuses nap, preferring to hold concert in lobby:
Then passes out in the lobby mid guitar strum.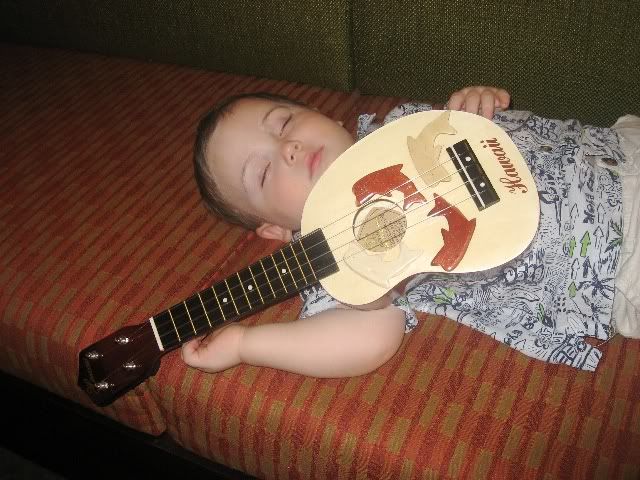 Bedtime @ 10:30 p.m. not perfect, but we'll take it!
Day 5 officially on Hawaii time! Although refuses to sleep in hotel provided crib, insisting on sharing bed with Daddy. (Mommy thanks heaven for two separate beds in the room! whoohoo!)
Day 6...Daylight Savings time. I loathe you.
Then before you know it, it's back to Los Angeles; and we start all over again!
Day one, bedtime 12:30 a.m. *yawn*
Day two: sleeps til 10:30 a.m. and refuses nap, fights bedtime, finally collapsing in the cutest little heap ever at 10:30 p.m.
Day three....I'll let you know. But one little hour doesn't seem so bad now does it.
So, I say if you must battle the time change, you should all do it in:
Go for it, for while the time change may be a struggle, you will be struggling in paradise. And the pina coladas don't hurt either!
** Thank you all for your sweet tweets/comments/emails about the little ones face. A few days of hydrocortizone and it is on the ment. Still there, but barely noticible.I appreciate your concern.