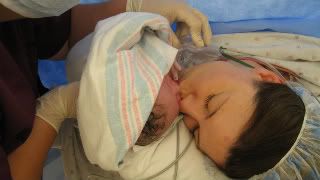 Only you're really pregnant for longer than nine months. That's the sick joke no one tells you till you're pregnant. You get to nine months, you count the weeks and you think "
WTF
! I have four more weeks to go???"
Nine months ago today I checked in to St. Joseph's hospital in beautiful downtown Burbank, CA to have my precious baby! The nine months since he has been born have gone way faster than the nine (ten) I was pregnant for lemme tell ya.
I had a scheduled C-section cause my poor Monkey was stuck kitty corner and jack knifed. It was not an easy section and I had bruising for months afterwards. Totally worth it. 
Everyday is a brilliant discovery with Max. Yesterday out of the blue he started waving anytime anyone says 'bye bye'. It's so cute. And a tooth is finally pushing it's way up through the gum. Each of these milestones fills my heart with pure bliss and yet it's bittersweet as every day he moves away from babyhood and into
toddler hood
. My mother in law once told me 'it's a good thing we never know when the last time they'll do something is, otherwise we'd cry every day.'
She's right. Until last week Max had to be swaddled to sleep, but I started thinking he's
wakin
up because he wants to move, so I
unswaddled
him and he slept so well. I didn't realize that last morning would be the last morning of our
unswaddling
tradition. Every morning after hubby goes off to work I bring Max into bed with me for some snuggles and a little extra
zzzzz's
. When we wake I unwrap his and say "Free
feets
! Free
feeties
!" and he kicks his legs up in the air grabs his toes and giggles.  No more free
feets
. Sniff. But it's good, it's wonderful to see him pushing up on all fours and looking up at me and wiggling his booty. I know in the blink of an eye he'll be off and crawling. Another blink and he'll be toddling around the playground. One more and he'll be driving, and then off to college. 
So happy nine months on the outside, my precious piglet. No language in the entire world could possibly express how much I love you.